Agape Christian Academy brings you
Camp Infinity –
Where STEM and Apologetics create fun!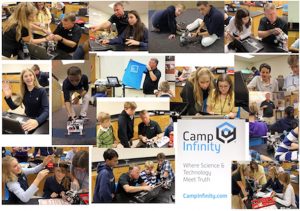 WHERE: Agape Christian Academy's Troy Campus
 17791 Claridon Troy Road – Hiram -44234
 (At the intersection of Routes 422 and 700)
WHEN: Monday, February 19 from 9 a.m. to noon
            A great way for your students to spend the day off from school
WHO: Children in Fourth through Seventh Grade who attend any school or homeschool
To register email agapeacademy@sbcglobal.net. Cost per student is $10 and space is limited so register early. For questions, call Agape Christian Academy at 440.834.8022 or send your questions to the school's email listed above.
Students will be working with a LEGO Mindstorm EV3 Robotics Kit in teams of 3 to 4 students. The camp is designed to challenge your child's mind and engage their heart on creation and theology of technology. The camp will be led by Mr. Dan Wooster, former professor from Bob Jones University who currently serves on the board of Answers in Genesis.